Brian will show excerpts from his film Geronimo's Country (still in progress) at this upcoming art installation. If you're in Austin in November, hope you'll get a chance to stop in and see it. Full show details below: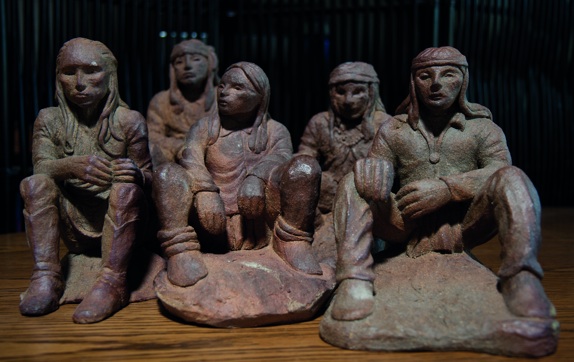 November 16-17 & 23-24; East Austin Studio Tour 2013

"Geronimo is out!" is a ceramic sculpture work in two parts presented by Cynthia Ann Lost Howling Wolf at Big Medium's 12th East Austin Studio Tour.
Part one, "The Last Hold Out Band," is a stoneware collection of twenty-one individual figures (detail, shown above) representing Geronimo and his Chiricahua Apaches following their surrender to the US Army in 1886.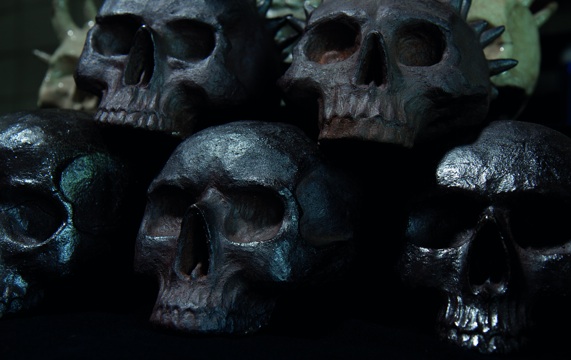 Part two, "Skull-duggery", includes more than thirty raku and pit fired skulls and masks as a reminder of the theft of Geronimo's remains by the Yale University-based Skull & Bones Society.
Cynthia Ann Lost Howling Wolf is a Yaqui/Apache Indian artist based in Texas. "Geronimo" is the culmination of several years reflecting on the Apaches and the themes of captivity and loss.
"Geronimo is out!' will be exhibited  November 16-17 and November 23-24 at Cobra Studios, 902 Gardner Road, unit #14, Austin, Texas. Part of the East Austin Studio Tour (EAST). Visit the tour website at: eastaustinstudiotour.com
Contact the artist at duke@rice.edu